Two-Part Inventions (J.S. Bach)

Two-Part Inventions

Staatsbibliothek zu Berlin - Preußischer Kulturbesitz
Musikabteilung mit Mendelssohn-Archiv:
[Berlin State Library - Prussian Cultural Heritage, Music
Department with Mendelssohn archive]
A. Record card D-B Mus. ms. Bach P 610
B. Manuscript (Title page 03)
Text of Bach title page and translation into English: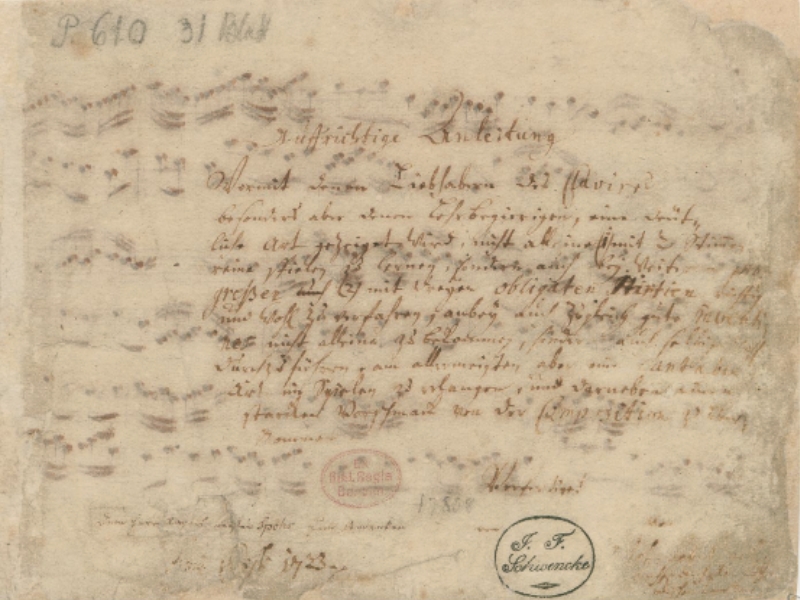 Auffrichtige Anleitung
[Honest method]

Wormit denen Liebhabern des Clavires, besonders aber denen Lehrbegierigen, eine deütliche Art gezeiget wird, nicht alleine (1) mit 2 Stimmen reine spielen zu lernen, sondern auch bey weiteren progressen (2) mit dreyen obligaten Partien richtig und wohl zu verfahren, anbey auch zugleich gute inventiones nicht alleine zu bekommen, sondern auch selbige wohl durchzuführen, am allermeisten aber eine cantable Art im Spielen zu erlangen, und darneben einen starcken Vorschmack von der Composition zu überkommen.
[by which the amateurs of the keyboard, especially, however, those desirous of learning, are shown a clear way not only (1) to learn to play cleanly in two parts, but also, after further progress, (2) to handle three obligate parts correctly and well; and along with this not only to obtain good inventions (ideas) but to develop the same well; above all, however, to achieve a cantabile style in playing and at the same time acquire a strong foretaste of composition.]
Verfertiget von
[Composed by]
Joh. Seb. Bach.
Hochfürstlich Anhalt-Cöthenischen Capellmeister
[Kapellmeister of Anhalt-Cöthen court]
Anno Christi 1723
[Christ's Year 1723]